Steve Backshall recently presented a series called Deadly Sixty – on a Mission, at 6pm on Sunday on BBC1, probably with many children watching. He travels the world showing various species that may qualify for his notorious list. The question is, yes it may be good for ratings, appeals to children, but in the end, does it do the animals themselves any good? I doubt it.
Should the spotted flycatcher be one of the Deadly Sixty? This inoffensive little brown bird migrates to Europe from Africa every summer and, surprise surprise, catches flies, not only spotted ones. According to the Deadly Sixty wide-ranging criteria it is a formidable flyer, picking off insects in mid-air and eating them alive – yes, yet another "deadly predator", that worn out phrase. "Slayer" and "assassin" appeared on April 4th, words more applicable to humans than to the animals who need all the help they can get. So Steve Backshall treads a tricky line between attracting ratings and showing respect and admiration for the species he chooses.
Let's hope Steve can help rectify his reputation as a wrangler of so called "deadly" species by the promotion of his well-observed, well-promoted, and well-narrated series Microworlds repeated on BBC2 from a small audience slot on BBC4 (4 viewers?). That is the truth about nature, not a countdown of species whose future may be threatened by misleading sensationalism.

Here we go again. From the respected Radio Times a typical example of "Fang TV". (23rd May 2013)
And from the Guardian newspaper, also a respected publication, by Adam Welz.
"Bloodthirsty "Factual" shows demonise wildlife. Major US TV channels are promoting hysterical and outdated ideas about wildlife in popular, blood-soaked shows."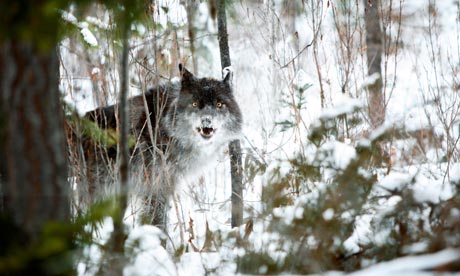 "Wolves are depicted as "mean ferocious animals and they can tear a man apart real easy" on TV, despite evidence to the contrary." Photograph: Alamy
"Most people's wild beasts live in the TV.
What I mean is that, in my experience, most people are highly unlikely to come eyeball-to-eyeball with a large wild animal in their everyday lives, and much of their knowledge of wildlife comes from a screen.
If you're North American or get US-produced satellite TV, you've probably learned a lot about wildlife from outlets like the Discovery Channel, Animal Planet and History. You might trust these channels because you've seen educational, factually accurate shows on them, unlike the 'trashy' material that dominates free-to-air network TV.
But not everything on on these 'factual' channels might be as ethical or even as accurate as you might think, and the implications for conservation could be profound.
I recently spent a few entertaining hours watching episodes of Discovery's Yukon Men, a hit 'reality' series about the residents of the small town of Tanana in central Alaska. Launched in August last year, it's consistently gained over two million US viewers in its Friday night slot, been syndicated overseas, and helped the channel win some of its biggest audiences ever.
The first episode brings us to midwinter Tanana, which a theatrical, husky male voiceover tells us is "one of America's most remote outposts" where "every day is a struggle to survive". A dramatic, orchestral score pounds as we see a lynx struggling in a leghold trap, guns firing, a man attacking a squealing wolverine with a tree trunk, a wolf which a voice tells us "might eat one of those kids", a hand lifting up the head of a bloodied, dead wolf to show us its teeth, and then a gloved hand dripping blood while the voiceover rumbles that in Alaska, it's "hunt or starve, kill or be killed".
That's all in the first minute."
(For more, read on www.guardian.co.uk/environment/nature-up/2013/may/17/bloodthirtsty-wildlife-documentaries-reality-ethics, should you wish to.)

For even more of the same sort of thing, National Geographic Wild on May 5th 2013 (Radio Times)
The fact is that wolves, wolverines, alligators, rattlesnakes and other media-exploited species rarely attack man. Usually it's only to defend themselves from the likes of Discovery and National Geographic.
Would you say that's overkill?

Steve Backshall turns YouTube Deadly! - DEADLIEST!
(In the New Series Promo, it says, "Deadly 60 is back and it's deadlier than ever!"

Joey Zuray kills a lynx - Yukon Men promo video

"It's a Texas thing" - Rattlesnake Republic promo video
Comment below or contact: Richard Brock