Wildlife Film News (latest Natural History Film news from our acclaimed newsletter)
Become a member today... For a Freelancer join here, for an Organisation join here! :)

See our 'Features' and 'Interviews' pages for stories from around the wildlife, conservation and natural history film-making world! Got Kit to sell? Add your items here! (NB. Members post for free!) Looking for a work or got something to offer... Visit our Jobs Page.
Gorillas & Chimps in Uganda, 13-22 November 2017 - Join the Great Ape Adventure!

After our fabulous trip last year to see/film wild mountain gorillas and chimpanzees in the forests of Uganda, whilst learning about conservation projects, we are returning in November this year.

For many people this is on their lifetime wish-list - so grab the chance while you can! A unique itinerary is planned to give participants an incredible opportunity to see wild great apes and engage in their conservation.

Highlights include: mountain gorilla and chimpanzee trekking, visiting the Ngamba Chimp Island Sanctuary, several game drives featuring lions, elephants, monkeys, buffaloes and more, learning about and participating in conservation projects such as tree-planting, teaching local people about the value of wildlife, and the Pedal Powered Cinema Project, staying at Dian Fossey Lodge.

As well as local guides and specialists you will be accompanied throughout by Madelaine Westwood (founder of GAFI (The Great Apes Film Initiative) and the Pedal Powered Cinema Project) and Piers Warren (Principal of Wildeye).

Participants on the last trip said:

"Quite simply a life-changing experience!" "What a wonderful time we had, all seems like a dream now. Thanks for organising our trip of a lifetime!"

More here: www.wildeye.co.uk/gorillas-chimpanzees-uganda Just two places now available!

Check out the homepage for up-to-date availability: www.wildeye.co.uk




Wildscreen Manchester is Coming this October!

Wildscreen Manchester will take place on Thursday 19 October at Victoria Warehouse.

Symbiotic Stories is a day-long event for conservation organisations and visual storytellers. For those who have stories that need to be told, and those who recognise their lens as the most powerful tools to tell them. Taking shape through keynote sessions and masterclasses, the day will explore creative examples and practical techniques in the crafting of natural world stories that reach diverse audiences and generate real change.

Find out more and buy your pass here: wildscreen.org/wildscreen-manchester

Enter now the GREEN SCREEN Youth Film Award!

You are not older than 21 years? Pick up the camcorder, grab the mobile phone, digital camera, produced alone, with your friends, or your school a nature film and participate on the CAMäleon GREEN Clip Award presented by the Heinz Sielmann Foundation and GREEN SCREEN.

Win great prizes with your 90 sec wildlife clip at the largest wildlife film festival in Germany. Your clip is viewed by an international expert panel of judges and if it receives a nomination, presented at the International Wildlife Filmfestival GREEN SCREEN in Eckernförde. Professional filmmakers will be present, they´ll let you know more gimmicks and tricks and draw out the winning film. We are looking forward to your film.

The deadline for the Festival of 2017 is the 15th of August.

Films longer than 90 sec can also participate on the GREEN SCREEN Youth Film Award.

Donated by Ministry of Energy, Agriculture, the Environment and Rural Areas Schleswig-Holstein, the Wildlife Park Eekholt and the Heinz Sielmann Foundation.

For more information on the categories and entrance requirements visit: www.greenscreen-festival.de/en/youth/youth-film-award

NY WILD Call For Entries!

We invite filmmakers from around the world to submit your work to the 5th annual New York WILDFilm Festival hosted by the Explorers Club, February 22-25, 2018. Submissions are accepted via FilmFreeway. The next deadline is Monday August 14, 2017.

Final call for entries ends Monday October 9, 2017.

Films eligible for the 2018 competition festival must be documentaries with a focus on the subjects of exploration, adventure, wildlife, conservation and the environment. NY WILD celebrates the filmmakers who, through the power of their images and storytelling, promote awareness, educate and inspire interest in exploring and protecting the natural world around us.

"The experience of screening at the NYWFF has been amazing... it provides a forum that, through the films it selects, is vitally important." JONATHAN DEMME, Director, "The Silence of The Lambs," "What's Motivating Hayes"

With our new partnership with New York University, films selected have the chance to also screen at NYU and NYU Shanghai. If selected, you will have an opportunity to attend the screening in Shanghai. Your work will reach an international audience of students, faculty and the Shanghai community. To see more of the event, check out this video.

For those of you who have already submitted your film, thank you so much for your entry and please disregard this notice. For questions, please email nywildff@gmail.com with festival entry in the subject. Thank you for your consideration. We look forward to receiving your films!

Nancy Rosenthal
Founder & Executive Director
New York WILD Film Festival - www.nywildfilmfestival.comx
More HERE!

Diving bell spiders - spinning web underwater from member James Dunbar - Team Candiru

Argyroneta aquatica the Diving Bell Spider it the UK's only fully aquatic species of spider. They are rarely seen but are amazing creatures. This film explores how they hunt and live underwater. Narrated by Dave Gillies


Diving bell spiders - spinning web underwater from Team Candiru

Visit: www.jamesdunbarphotography.com & www.teamcandiru.co.uk

7th Green-Go Short Film Contest - Call for Entries Open!

You care about nature? You want to be a part of a solution to challenges? You feel creative? Get inspired, find a story, do your research, get your team together, grab your camera and go outside to make your short film now! Send your film by 1 October 2017.

This year we have 3 exciting topics:

#1 Build Green, Live Green (green infrastructure)
Science has proved that we are healthier and happier if we live in greener environment. Parks, gardens, tree lines, orchards, woodlands etc. have many and significant benefits for people, as nature makes us healthier and happier; helps us be fit and beautiful; makes us more creative and improves our memory. Plus, it is good for the economy as well. So what is stopping us from having more nature in our lives? Investigate the root of this problem, point out to its causes or show us a success story and offer a solution. Let your voice be heard!
#2 The Last Day on Earth? (Earth Overshoot Day)
We are taking, we are consuming, and we are wasting without thinking about consequences of our actions. Planet Earth gives us enormous resources. Enormous, but not limitless. Did you know that Earth has to regenerate resources we are using and that we use more than can be reproduced? Every year, the date that marks the day when humanity has exhausted Earth's natural budget (called the Earth Overshoot Day) arrives earlier and earlier. In 1987 it was on December 19 and last year it was on August 8. Now think, how can we help? We can bike to work or take public transport; we can consume less meat or become vegetarian; we can use less plastic; recycle; lower energy consumption… the choices are multiple. Tell your story about problems and solutions with your short film.
#3 Your Europe in 2050 (EU budget)
Close your eyes and imagine Europe in 33 years from now… Where are you? Are you in a place you are happy to be in or are you somewhere you want to escape from? How the world around you looks like? Think about the problems Europe is facing today: social inequality, loss of animal and plant species, climate change, air pollution, management of water resources, waste, excessive noise and traffic… Will these issues be diminished, increased or will they remain the same? If the extent of problems will change, what is your vision of Europe in 2050? The answer to these challenges is directly related to the next EU budgets and their shape – what will money be spent on? We want to see a green budget, where public money is spent for public good. Send us your vision of Europe in 2050, your dream or your nightmare in a form of short film and let us know what you hope for or what you're terrified of!

For more information, rules and how to enter, please visit www.greengofest.eu




Offspring wins Sky 1 order for three new natural history series

Bristol-based Offspring Films is to make three new (3x60) natural history series for Sky 1 television. The bulk order follows the success with viewers and critics of Offspring's recent AN AMAZING ANIMAL FAMILY programmes.

The three new series will be fronted by presenter Patrick Aryee, executive produced by Offspring's award-winning founder Alex Williamson and overseen for Sky by commissioner Siobhan Mulholland. The first series, which is already in production, is titled ONE WILD DAY and is due to air early in 2018.

Alex Williamson said: "Offspring's fresh, modern, approach to natural history storytelling really appeals to the Sky audience. In the new programmes, we're looking at a very different set of wildlife stories - but in the same winning style. Tackling each series with new innovations, we're using the latest film-making technologies to capture stunning visuals and really bring the natural world to life."

Offspring's earliest two multi-part productions for Sky 1 were in the AN AMAZING ANIMAL FAMILY format – also presented by Patrick Aryee and exploring BIG CATS (2015) and MONKEYS (2016). Both are now being distributed internationally by Sky Vision.

The Amazing Animal Family series wrapped up last month with Patrick Aryee taking a globe-trotting look at the origins, evolution, wild relatives and extraordinary variety of man's best friend – the dog. Episode one of DOGS: An Amazing Animal Family aired on Sky 1 on Thursday 13 July (9pm) with episodes two and three showing at the same time on July 20 and 27, prior to again being distributed worldwide by Sky Vision.

Visit: www.offspringfilms.co.uk Follow: @offspringfilms
Listen: EOC's 'Project Wolf Podcast' with Lisa Marley!

Today we are discussing a truly unique and fascinating project that has been implemented in Scotland, called Project Wolf. Now despite the title, this is not an actual wolf re-introduction project. Although the organization managing the project, Trees for Life, is interested in eventually re-introducing wolves in Scotland, they recognize this to be a long-term goal. So in the meantime, they have organized human wolf packs. These are small groups of people tasked with wandering through the Scottish landscape replicating certain aspects of wolf behavior.

Visit: wildlensinc.org/eoc129 & lisamarley.co.uk & igg.me/at/projectwolf/x



American Conservation Film Festival 2017 FILM LINE-UP!

The 2017 film selections have been made and they are 45 of the most compelling, diverse, and beautiful conservation films about our world and our relationship with it. Details - descriptions, trailers, images, filmmakers, the schedule - are soon to come, but we wanted to share this exciting list with you today! SEE 2017 FILM LIST HERE & SEE 2017 AWARD WINNERS HERE Big congratulations to member Tom Mustilll for his Foreign Film Award win for GIRAFFES: AFRICA'S GENTLE GIANTS.

Dates:
2017 FESTIVAL – 15th SEASON OCTOBER 13th-15th in SHEPHERDSTOWN, WEST VIRGINIA
Encore Award Winners Weekend – October 20th-22nd, 2017
See: conservationfilm.org/schedule

Short Film Contest for Kids! Cash Prizes!!

Sweet summertime is here! And it's a perfect time to get the kids out and exploring their environment with phones, iPads, or cameras in hand! We're excited to launch this new project and contest to engage youth 18 and under in filmmaking, award them for their efforts, and build a Youth Film Archive. SUBMISSION DEADLINE IS AUGUST 15, 2017. Top prize is $250 cash and an iPad mini with $100 prizes in four age categories.

CLICK HERE FOR ALL THE DETAILS – Dowload the flyer here!
Winners of this year's Mavis and Sidney John Palmer Scholarships announced!

This year's recipients of the Mavis and Sidney John Palmer Scholarships: Sirjaut Kaur Dhariwal and Crystal Solberg. Both of these award winners are about to begin the second year of their MFA.

The scholarship was set up in 2013 by Professor Chris Palmer and his wife, Gail Shearer, to honor Chris's parents. Chris and Gail established an endowment to support the scholarship. Income from the fund is awarded annually, based on merit, to outstanding SOC graduate students with an interest in environmental and wildlife filmmaking.

Sirjaut Kaur Dhariwal (pictured) is a zoologist and is pursuing her MFA in Wildlife and Environmental Filmmaking in order to bring science and conservation to the forefront of conversations and everyday life. She is interested depicting stories in order for human and wildlife interactions to be environmentally sustainable for future generations. Her past work has included filming bird migrations with field researchers and a short for the Wildlife In Need Center. She is currently directing and producing a film about agriculture practices in Punjab, India.

Crystal Solberg is a visual storyteller who strives to create work of environmental and social significance through creative camerawork, editing, and persistence. Over the past year, she has had the privilege of producing videos for The Humane Society of the United States; working alongside thesis students as they develop their passion projects; and interning as an assistant editor for The Investigative Reporting Workshop. Crystal plans to continue to collaborate on purpose-driven environmental films and greatly expand her own body of work in the years to come.

Congratulations to Sirjaut and Crystal for earning the Mavis and Sidney John Palmer Scholarships for this year.
Welcome our new full US members from July!

Alex Goetz - A US wildlife filmmaker and photographer, who has been recognized by Nat Geo Wild as winner of their 2016 "Wild to Inspire" film competition for the short film, "To The Explorers," and a 2015 finalist for the Nat Geo Wild "Wild to Inspire" Film Competition for the short film, "Living Isle."

Ryan Trenkamp - A Cleveland-based (USA) Outdoor Cameraman with timelapse, interview, Glidecam, editing, narrating, scuba diving skils... 2017 North American Nature Photography Association scholarship winner.

There's basic FREE membership for all here or for a much more comprehensive listing, Profile Page and additional benefits, become a full member: Wildlife-film.com/freelancers or Wildlife-film.com/companies
See 'Kit For Sale' for items from members/subscribers!
Welcome to Wildlife-film.com
Since the late 1990s Wildlife-film.com has been the leading source of information for the wildlife filmmaking industry worldwide. For over fifteen years the site has been Google's number one ranking site for 'wildlife film' and related searches. Our site is viewed in over 175 countries. Our newsletter, Wildlife Film News, is read every month by thousands of people involved in wildlife filmmaking - from broadcasters and producers, to cameramen - we encourage readers to submit their news. We also serve as an online resource for industry professionals and services. Find producers, editors, presenters and more in our Freelancer section, and find out about festivals, training and conservation in Organisations. We encourage amateur and professional freelancers to join our network and welcome all wildlife-film related organisations to join our team.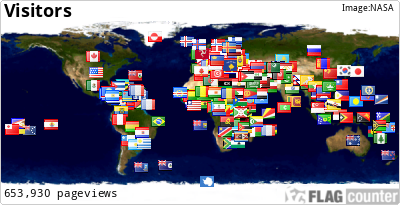 The above visitors map was added on the 30th September 2016...