Wildlife Film News (latest Natural History Film news from our acclaimed newsletter)
Become a member today... For a Freelancer join here, for an Organisation join here! :)
See our 'Features' and 'Interviews' pages for stories from around the wildlife, conservation and natural history film-making world! Got Kit to sell? Add your items here! (NB. Members post for free!) Looking for a work or got something to offer... Visit our Jobs Page.
RIP Viewfinders founder Jean Hartley.

It is with great sadness that we announce the death of Viewfinders Founder Jean Hartley. Jean was widely credited with being the first to establish fixing as a sector within wildlife film making in East Africa. For those who knew her, she was an unconquerable soul with a never ending fighting spirit.

Her colleague Sajid Darr said "It seems not too long ago that I sat with Jean and talked fondly of her memories with her close friend and business partner Alan Root whom we lost just a few weeks ago. For us at Viewfinders it is a double loss. We would like to think that she and Alan are planning there next film venture together surrounded by all the animals and nature they both so loved. We plan to carry on Jeans legacy at Viewfinders and to build on what she so passionately built over the last 30 years, and in this way keep her spirit alive in the wildlife film making sector and the natural world. Three roars for a true lover of nature and an amazing human being. She shall be fondly remembered."

R.I.P Jean, we will really miss you.

A fitting Facebook Post by Mark Deeble:


See: wildfilmhistory.org/person/110/Jean+Hartley.html

We send our deepest condolences to Jean's family and all of her many friends.

Wildscreen's on the Road...

By

Wildscreen

21 September 2017

Manchester event in one month's time will promote collaboration between conservationists, filmmakers and photographers

Wildscreen Manchester: Symbiotic Stories, 19 October at Victoria Warehouse

From bees pollinating flowering plants in return for a tasty meal, to clownfish keeping anemones parasite-free in return for a safe hiding place, animals often get the best results when they work together, and so do those who tell their stories. That's why filmmakers, photographers and conservationists are coming together for nature on 19 October in Manchester, for a groundbreaking event at Victoria Warehouse.

Wildscreen Festival takes place every two years in Bristol, and is well established as the leading international festival celebrating and advancing storytelling about the natural world through visual media. The charity also provides essential resources for wildlife learning, storytelling and collaboration through the Arkive and Exchange projects. Wildscreen Director Lucie Muir said, "We're so excited to be taking Wildscreen on the road. We know two years is a long time to wait for your next Wildscreen Festival fix, so our new programme offers the chance to network, learn and share throughout the year."

Wildscreen Manchester: Symbiotic Stories, sponsored by Panasonic VariCam, is the first of a series of roadshow events bringing together visual storytellers and conservation organisations to forge relationships and projects that will inspire people to protect the natural world. The event will offer inspiring speakers from the world of wildlife television, film and photography – including a keynote from filmmaker and photographer Adrian Steirn. There will be masterclasses with BBC, Google, Wildscreen Exchange and more, giving practical tips on how to get your ideas into production, and plenty of networking opportunities.

Other speakers include Plimsoll Productions' Jess Baker, photojournalists Britta Jaschinski, Timothy Allen and Will Burrard-Lucas, Ed Parsons from Google and the BBC's Steve Greenwood.

"More speakers and sessions are to be announced," said Muir, "and we've just launched an exciting competition. We're inviting aspiring wildlife storytellers to pitch a film or photo story about symbiotic partnerships in nature, for a chance to win a ticket to Wildscreen Manchester and get feedback from industry experts at the event on 19 October. Visit the Wildscreen website to find out more."

Event details

Date: Thursday 19 October, 9.30am – 6pm followed by an evening drinks reception Location: Victoria Warehouse, Trafford Wharf Road, Manchester, M17 1AB

Tickets: wildscreen.org/wildscreen-manchester

Visit: www.wildscreen.org ; find Wildscreen on Facebook, follow @wildscreen_org on Twitter.

World-class environment experts and top food industry champions revealed as key speakers at international Extinction and Livestock conference...
From CIWF
6 September 2017

Extinction and Livestock Conference: 5 and 6 October 2017
Queen Elizabeth II Conference Centre, London
#extinction17


International experts on the environment, conservation and human rights as well as leading food industry figures have been announced as key speakers at a major conference examining the impact of livestock production on the planet.

Ocean sustainability expert Professor Katherine Richardson of the University of Copenhagen, food activist Raj Patel of the University of Texas, former Director of the National Centre for Climate Change Strategy and International Cooperation (NCSC) in China Li Junfeng, Chair of Perdue Farms Jim Perdue, and Josh Balk, founder of Hampton Creek, are among leading international figures revealed as key speakers at the Extinction and Livestock Conference, which will examine how we can transform our global farming systems to work for people, the planet and animals.

Organised by Compassion in World Farming, WWF, Bird Life International, the University of Winchester, the Alliance of Religions and Conservation (ARC) and the European Environmental Bureau (EEB), the event will bring together diverse interests – such as conservation, biodiversity, agriculture, land and water use, environment, climate change, forests, ethics, food policy, production, security and business – and act as a catalyst for future collaboration and solution development.

The conference programme will set the planetary scene, look at the impact of livestock production on wildlife, the environment and humanity, and explore practical global solutions.

The launch follows the recent publication of a scientific paper in Nature warning that tens of thousands of species are threatened with extinction as a result of human activities. The paper, written by a team of international scientists, states: "Extinction rates for birds, mammals and amphibians are similar to the five global mass-extinction events of the past 500 million years that probably resulted from meteorite impacts, massive volcanism and other cataclysmic forces" but stresses that this can be turned around if action is taken.

Philip Lymbery, CEO of Compassion in World Farming and author of the book Dead Zone:Where the Wild Things Were, which explores the link between livestock production and the plight of some of the world's most iconic and endangered species, said: "Many people are aware that wild animals such as penguins, elephants and jaguars are threatened by extinction. However, few know that livestock production, fuelled by consumer demand for cheap meat, is one of the biggest drivers of species extinction and biodiversity loss on the planet.

"Livestock production, the environment, wildlife conservation and human health are all interlinked so it's vital that experts from each of these fields work together to come up with practical solutions to stop this before it's too late."

Glyn Davies, WWF's Executive Director of Global Programmes, says: "The decline of species is reaching a critical point, and we cannot ignore the role of unsustainable livestock production. If nature is to recover, we need to work together and encourage sustainable farming systems which will limit pollution, reduce habitat loss and restore species numbers. The Extinction and Livestock conference is a launch pad for action on this global issue."

Other key speakers at the conference include: award-winning author, Dr Carl Safina; World Food Prize winner, Hans Herren; Dr Hilal Elver, UN Special Rapporteur on the right to food; Senior Adviser for the Sustainable Development in the European Policy Strategy Center (EPSC) and former EC Director General for Environment (2009-2014), Karl Falkenberg; bee expert, Professor Dave Goulson, of the University of Sussex; Britain's best-loved environmentalist Jonathan Porritt; Professor Frank Hu of Harvard University's School of Public Health.

To view the full conference programme and to register visit www.extinctionconference.com

Compassion in World Farming was founded in 1967 by a British dairy farmer who became horrified at the development of intensive factory farming. Today Compassion is the leading farm animal welfare organisation dedicated to ending factory farming and achieving humane and sustainable food. With headquarters in the UK, we have offices across Europe in the US, China and South Africa.

Join Jason, WFN editor, there!!

Watch: Dead Zone films... Farming wildlife to extinction.

These three Dead Zone films from CIWF are on the topics of deforestation and how it is affecting wildlife in Sumatra, demand for cheap meat fuelling palm plantations in Sumatra, and the effect agricultural pollution has on our oceans.

Dead Zone: The Elephant in the Room - Youtube.com/watch?v=uoo1BPNuojc&t=3s

Our demand for cheap meat is driving wildlife to the brink of extinction. The Sumatran rainforest is being cut down to make way for intensive palm plantations. The EU is the biggest importer of Sumatran palm kernel - and most of it is used to feed industrially reared farm animals. The critically endangered Sumatran elephant is being pushed out of it's home. Soon, there will be no room left for this amazing animal.

Dead Zone: What's the Beef with Palm? - Youtube.com/watch?v=qeZa8uo1PiY

The Sumatran rainforest is one of the most biologically rich landscapes in the world, with elephants living alongside tigers, rhinoceros and orangutans. Huge swathes of the forest homes of these amazing creatures are being destroyed to make way for intensive palm plantations. Of course, we know about the palm oil ending up in so many biscuits, cosmetics, and other supermarket products. But how many people would imagine that the palm kernel is being used as cheap animal feed, fuelling factory farming and driving further deforestation?

Dead Zone: The Downstream Disaster - Youtube.com/watch?v=a-4utxd80Wg&t=33s

Our hunger for cheap meat from animals fed on mass-produced corn grown in chemical-laced fields is poisoning our world and creating Dead Zones in our oceans. Philip Lymbery, author of Dead Zone:Where the Wild Things Were and CEO of Compassion in World Farming investigates the cause of pollution in the Gulf of Mexico, the second largest dead zone in the world.

Find out more and get involved here: www.ciwf.org.uk/DeadZone
Get a copy of Philip Lymbery's book Dead Zone: Where the Wild Things Were here: amzn.to/2fKcIFg





2017 Jackson Hole Wildlife Film Festival Winners Announced!

The Awards Celebration concludes the Festival & Summit, which draws leading filmmakers, conservationists, scientists, journalists and visionaries engaged in conservation and wildlife media to Jackson Hole. Submissions in the prestigious competition included a record-breaking 900 film entries, making this year's festival the biggest yet. The nominated films are dazzling, inspiring, innovative and urgent. The winners were selected by a distinguished panel of international judges.

Congratulations to the 2017 Winners!

Grand Teton Award Winner (Sponsored by Panasonic)

The Ivory Game
A Netflix Documentary, Terra Mater Film Studios and Vulcan Production in association with Malaika Pictures in association with Appian Way

CONTENT CATEGORIES:

Best Animal Behavior Program (Sponsored by World Wildlife Fund)

Rise of the Warrior Apes
KEO Films for Discovery Network International

Best Ecosystem Film (Sponsored by Animal Planet)

Antarctica in the Footsteps of the Emperor
PAPRIKA Films, Wild-Touch Production, ARTE France, Andromède Océanologie, CNRS Images

Best Conservation Film (Sponsored by HHMI | Tangled Bank Studios)

The Hunt: Living With Predators
A Silverback Films production, made in partnership with The Open University, for BBC, co-produced with BBC Worldwide, BBC America, CCTV9 and NDR Naturfilm.

Best People & Nature Film (Sponsored by The Nature Conservancy)

Ranger and Leopard
Wildlife Pictures Institute for Jam-e Jam TV Network

Best Changing Planet Film (Sponsored by North Carolina Museum of Natural Sciences)

Death By a Thousand Cuts
Participant and Documentales Univision present a Tarasios Production in association with Human Pictures

Best Science in Nature Film (Sponsored by Marco Polo Film)

Sonic Sea
Discovery Channel presents a film by the Natural Resources Defense Council and Imaginary Forces in association with the International Fund for Animal Welfare and Diamond Docs

Best Impact Film (Sponsored by International Fund for Animal Welfare)

Chasing Coral
A Netflix Documentary, Exposure Labs

Best Educational Institutional Film (Sponsored by Terra Mater Factual Studios)

Pavel: I Protect Tigers
WWF-UK

Best Limited Series — Long (Sponsored by ORF Universum)

Ocean Warriors
A co-production between Animal Planet, Sundance Productions, Brick City TV and Vulcan Productions

Best Limited Series — Short (Sponsored by ARRI)

Lens of Time
Spine Films, California Academy of Sciences, bioGraphic

Best Engaging Youth Film (Sponsored by PBS)

My Haggan Dream
Sisbro Studios, Open Boat Films

Best Host - Presenter Led (Sponsored by WNET / Nature)

David Attenborough's Light on Earth
Terra Mater Factual Studios, Ammonite Film Productions, Curiosity Stream, BBC, UKTV, ABC Australia

Best Short (Sponsored by Discovery)

Pangolin
Coral & Oak Studios

Best Micro-Movie (Sponsored by Nat Geo WILD)

I am Ranger
Black Bean Productions, United for Wildlife, Ol Pejeta Conservancy

Best Theatrical Film (Sponsored by Sony)

The Ivory Game
A Netflix Documentary, Terra Mater Film Studios and Vulcan Productions in association with Malaika Pictures in association with Appian Way

Best Student & Emerging Film (Sponsored by Disneynature)

Wild Expectations
Equilibrio films LLC, Nedo Producciones Ltda.

Best Interactive (Sponsored by RED Digital Cinemas)

David Attenborough's Great Barrier Reef: An Interactive Journey
Atlantic Productions

Best 360° Storytelling (Sponsored by USC Cinematic Arts)

360 Climbing Giants
Black Dot Films VR, National Geographic Partners

Best Visualization (Sponsored by Fujinon Lenses)

Planet Earth II: Cities
BBC Studios Natural History Unit production, co-produced with BBC America, ZDF, Tencent and France Télévisions.

Best Editing (Sponsored by Off the Fence)

The Hunt: Hide and Seek
A Silverback Films production, made in partnership with The Open University, for BBC, co-produced with BBC Worldwide, BBC America, CCTV9 and NDR Naturfilm
Nigel Buck, Editor

Best Original Music Score (Sponsored by Vulcan)

Planet Earth II: Grasslands
BBC Studios Natural History Unit production, co-produced with BBC America, ZDF, Tencent and France Télévisions
Jacob Shea and Jasha Klebe, Composers

Best Writing (Sponsored by NHK)

The Ivory Game
A Netflix Documentary, Terra Mater Film Studios and Vulcan Productions in association with Malaika Pictures in association with Appian Way
Richard Ladkani and Kief Davidson, Writers

Best Audioscape (Sponsored by Dolby)

Planet Earth II: Jungles
BBC Studios Natural History Unit production, co-produced with BBC America, ZDF, Tencent and France Télévisions

Special Jury

Tribe Versus Pride
Terra Mater Factual Studios and Wildlife Films


2017 Jackson Hole Wildlife Film Festival Highlight Reel from Jackson Hole WILD

Wildlife-film.com congratulates all of the winners, especially our members shown in bold! Well done all involved!!

NY WILD Call For Entries!

We invite filmmakers from around the world to submit your work to the 5th annual New York WILDFilm Festival hosted by the Explorers Club, February 22-25, 2018. Submissions are accepted via FilmFreeway. Final call for entries ends Monday October 9, 2017.

Films eligible for the 2018 competition festival must be documentaries with a focus on the subjects of exploration, adventure, wildlife, conservation and the environment. NY WILD celebrates the filmmakers who, through the power of their images and storytelling, promote awareness, educate and inspire interest in exploring and protecting the natural world around us.

"The experience of screening at the NYWFF has been amazing... it provides a forum that, through the films it selects, is vitally important." JONATHAN DEMME, Director, "The Silence of The Lambs," "What's Motivating Hayes"

With our new partnership with New York University, films selected have the chance to also screen at NYU and NYU Shanghai. If selected, you will have an opportunity to attend the screening in Shanghai. Your work will reach an international audience of students, faculty and the Shanghai community. To see more of the event, check out this video.

For those of you who have already submitted your film, thank you so much for your entry and please disregard this notice. For questions, please email nywildff@gmail.com with festival entry in the subject. Thank you for your consideration. We look forward to receiving your films!

Nancy Rosenthal
Founder & Executive Director
New York WILD Film Festival - www.nywildfilmfestival.comx
More HERE!

28th Abbeville Bird and Nature Festival Call for Entries!

The 28th Bird and Nature Festival will be held from April 21st to 29th, 2018 in Abbeville and in the Bay of Somme – Picardie – FRANCE.

The call for entries opens this week... The competition is open to amateurs and professionals, enter your new film before the 3rd of November 2017! Download the professional category rules here.


Rétro 27ème Festival de l'Oiseau et de la Nature (2017)

Visit: festival-oiseau-nature.com & facebook.com/festivaloiseaunature
The 13th Annual Fall 2017 Film Series - An SOC Signature Series
Created and Hosted by Chris Palmer - AUCEF
8 September 2017

Free and Open to the Public - First come, first seated

TUESDAY, OCTOBER 10 at 7pm
Reception at 6:30pm with refreshments Smithsonian Channel with David Royle – It's Brighter Here

At a time when most television channels have gone the reality route, the

Smithsonian Channel

has emerged as the source of some of the most exciting factual programming. Emmy award winning producer,

David Royle, head of programming and production

, tells how Smithsonian Channel launched as an HD, and now 4K, channel that embraces new digital platforms, and creates some of today's most wondrous and innovative natural history programs. From the largest aerial filming project in television history, to the world's largest snake and the award-winning film about a young woman who swims with sharks, the presentation will combine amazing visual moments with the inside story of creating a new channel that combines entertainment with integrity and credibility.

TUESDAY, OCTOBER 17 at 7pm
Reception at 6:30pm with refreshments
Birds and People that Inspire Conservation Storytelling with Aditi Desai
As Director of Multimedia at American Bird Conservancy, Aditi Desai produces stories to promote bird conservation across the Western Hemisphere. From a ten second clip featuring the charismatic Lear's Macaw on Facebook to a short documentary about the impact of free-roaming cats on birds on YouTube, Aditi leverages visual media to take viewers on a journey and highlight interesting bird-related stories. Her work has taken her from young forests in Minnesota to the arid grasslands of Mexico to share stories that raise awareness of threats to birds and foster conservation action.

TUESDAY, OCTOBER 24 at 7pm
Reception at 6:30pm with refreshments
Nat Geo Goes Wild – with Geoff Daniels
Join Nat Geo WILD's Executive Vice President and General Manager, Geoff Daniels, for a wild night of stories about what goes on behind-the-scenes at cable television's #1 animal-focused network. From broadcasting live safaris from the middle of Kenya in Safari LIVE, to launching fun, new digital series like Untamed, Nat Geo WILD is pioneering new frontiers in a quickly evolving industry. Hear from Geoff about how Nat Geo WILD plans to captivate animal-lovers everywhere with exciting new shows featured on innovative platforms, as well as funny anecdotes about what goes on behind-the-scenes of your favorite shows like Snake City, Safari LIVE, the Incredible Dr. Pol, and more, and how he plans to stay one step ahead of the competition.

TUESDAY, NOVEMBER 14 at 7pm
Classroom in the Wild – Film Screening Followed by Q&A
Come and hear first-hand accounts from students about their extraordinary experiences during Classroom in the Wild in the Chesapeake Bay. Vanina Harel and Nick Zachar, who led the Chesapeake Bay course, will lead the presentation and Q&As. Through photos and videos by the students themselves, you will learn more about this unique experiential learning course, as well as future opportunities to practice environmental filmmaking in Classroom in the Wild in 2018.

Malsi Doyle & Michael Forman Theater, 2nd Floor, McKinley Building, American University, 4400 Massachusetts Avenue, NW, Washington, DC 20016-8017
Directions: www.american.edu/aumaps
Metro: Tenleytown/AU, shuttle bus service to AU

For more information, please contact:
Chris Palmer (202) 885-3408 or palmer@american.edu
Or visit www.environmentalfilm.org
And www.facebook.com/AmericanU.CEF

Visit: american.edu/soc/cef/upcoming-events.cfm
The Kiwi Wild Show with Chris Packham & Michaela Strachan

The Kiwi Wild Show: To save the endangered kiwi bird, Old Mout Cider has joined forces with former presenters of the BBC's Really Wild Show, Michaela Strachan and Chris Packham, to launch a new online TV show. During the campaign every Old Mout Cider bottle or can bought will donate to New Zealand based charity Kiwis for kiwi.


The Kiwi Wild Show | Out Mout Cider from Old Mout Cider UK

Find out more about how you can help save the kiwi at: oldmoutcider.co.uk/help-hatch-a-kiwi and share @oldmoutcideruk #helphatchakiwi
Check Out Nature TTL's New YouTube Channel!

Will Nicholls says: "I'm very pleased to announce that Nature TTL is launching a brand new, and very awesome, YouTube Channel!

This exciting new channel, created in partnership with B&H Photo Video in New York, will feature tutorials, gear reviews, and behind-the-scenes features from some of the best in the business.

In celebration, we're offering you the chance to win a $200 Ball Head for your tripod. The competition is open worldwide, and you can find out how to enter here.

But for now, here's a little introduction to the channel featuring yours truly!"


Welcome to the Nature TTL YouTube Channel! from NatureTTL

"So what are you waiting for? Jump in and start learning in this incredibly immersive way.

We'll be producing a new video each week, so make sure you take a few seconds to subscribe to the channel.

Our first video is coming very soon - 4th October, to be exact. I can't wait to show you what we have lined up."

Visit: www.naturettl.com
New Film from NaturaHD Films – Sons of Enkai

"Sons of Enkai" is an intimate look at the relationship betwwen man and nature in one of the most iconic wild places on Earth: the Maasai Mara (Kenya).

A maasai warrior guides us through the natural epic events and spectacular wildlife with which he shares his land and reflects on our deep connection to the natural world.

So far, the film has been selected for competition in several festivals this year: Matsalu (Estonia), Ménigoute (France), Namur Nature (Belgium) and Sondrio (Italy).

You can watch the official trailer here www.vimeo.com/naturahd/enkaitrailer01


SONS OF ENKAI | Official TRAILER #01 from NaturaHD Films

For more news on the film check our Instagram @naturahdfilms and @albertosaiz_naturahd and Facebook facebook.com/naturahd and our website www.naturahd.com
Blue Planet II: The Prequel is here!

With a stunning original score developed by Hans Zimmer and Radiohead, this short introduction to the show features an array of awe-inspiring shots. The thrilling sequel to BBC One's Blue Planet set to air in late 2017.


Blue Planet II: The Prequel from BBC Earth

Sixteen years ago, stunning sequences of blue whales, sardine bait balls and a deep-sea octopus called Dumbo wowed 10 million viewers in the UK and millions more around the world. BBC One's Blue Planet series set astonishing new standards in underwater filming. A generation later, it remains an influential benchmark in natural-history television. The multi-award-winning series is still on sale – including as a download, something unheard of when it first aired in 2001. So when the BBC decided to produce a sequel, Blue Planet II, executive producer James Honeyborne and the rest of the production team knew they had to pull out all the stops. Like baby turtles racing over a beach to the ocean, they faced the challenge of their lives.

Read: discoverwildlife.com

Here are the highlights from the Blue Planet II World Premiere at the BFI in London on the 27th of September. It was a very special occasion, with very special guests attending including Sir David Attenborough, Prince William, Hans Zimmer, Radiohead and may more: youtu.be/XbitfPw0Emo
See 'Kit For Sale' for items from members/subscribers!
Welcome to Wildlife-film.com
Since the late 1990s Wildlife-film.com has been the leading source of information for the wildlife filmmaking industry worldwide. For over fifteen years the site has been Google's number one ranking site for 'wildlife film' and related searches. Our site is viewed in over 175 countries. Our newsletter, Wildlife Film News, is read every month by thousands of people involved in wildlife filmmaking - from broadcasters and producers, to cameramen - we encourage readers to submit their news. We also serve as an online resource for industry professionals and services. Find producers, editors, presenters and more in our Freelancer section, and find out about festivals, training and conservation in Organisations. We encourage amateur and professional freelancers to join our network and welcome all wildlife-film related organisations to join our team.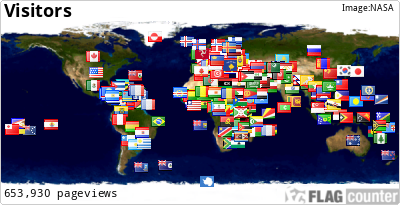 The above visitors map was added on the 30th September 2016...